Mercy Duo, featuring Lynda Day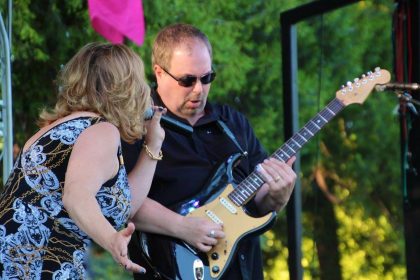 Genre: Blues / Rhythm & Blues / Soul / Classic Rock
Mercy Duo
Mercy Duo, featuring Lynda Day is Day & Lynda Day from Central Point, OR. Lynda Day's vocals have the power to slam you against the wall yet grab at your vulnerabilities that will melt your heart and move you to tears. Dave Day's guitar work is full of passion and soul that will make you take notice.
Both are seasoned musicians that have shared the stage with many famous artist. They have a large and growing following in their own right and a memorable pleasure to see perform live. Lynda and Dave together are Mercy Duo, featuring Lynda Day.
Please also see the Mercy, featuring Lynda Day band page at https://orba.us/?page_id=1427.
Sample music of Mercy Duo (featuring Lynda Day).
Recent bookings:
StoneRiver Winery, Talent, OR
Walkabout Brewing Company, Medford, OR
Urban Cork, Medford, OR
Grape Street Bar & Grill, Medford, OR
2 Hawk Winery, Medford, OR
'Eats, Beats, & Art' @ The Village Gate at The Village at Medford Center – Medford, OR
Boomtown Saloon, Jacksonville, OR
Belle Fiore Estate and Winery, Ashland, OR
Roxyann Winery, Medford, OR
Del Rio Winery, Gold Hill, OR
South Stage Cellars, Jacksonville, OR
Kriselle Cellars, White City, OR
Klamath Basin Brewing, Klamath Falls, OR
Bella Union Restaurant, Jacksonville, OR
The Rogue Creamery, Central Point, OR
Red Lilly Vineyards, Applegate, OR
Laughing Clam, Grants Pass, OR
Art Along the Rouge, Grants Pass, OR
Bartow Gardens, Talent, OR
Rogue Valley Manor, Medford, OR
Goodness Gracious Café, Grants Pass, OR
Wildlife Images Rehabilitation and Education Center, Grants Pass, OR
Mercy Duo (featuring Lynda Day) Typical Set List (Covers & Originals)
| | |
| --- | --- |
| Covers | |
| Moondance | Give Me One Reason |
| Little By Little | Spoonful |
| Goodtime Love | Feelin Good |
| Wish You Were Here | Cause We've Ended As Lovers |
| Superstition | Sweet Home Chicago |
| I'd Rather be A Blind Girl | Sun Don't Shine |
| Tell Mama | How Strong Is A Woman |
| I Believe I'm in love With You | I've Been Loving You Too Long |
| Chevrolet | Stranger Blues |
| Shakey Ground | Bad Habit |
| Lie To Me | I'm A good Woman |
| You Got Me Hummin | People Get Ready |
| Celestial Shore | Unchained Melody |
| At Last | Knockin' On Heaven's Door |
| Crying | Angel From Montgomery |
| Got You On My mind | Little Blue Pill |
| Mystery Train | Stormy Monday |
| Baddest blues | Walking Blues |
| Red House | Crossroads |
| | |
| | |
More info at: Official Band Web Site
***This Duo is in no way affiliated with any other artists similarly named and are their own entities in their own right.