Sonny Rhodes – Memorial
Genre: Blues
Legendary Texas Blues Man, Sonny Rhodes hails originally from Smithville, Texas the son of sharecroppers but now makes his home in Antioch, CA. He is an American blues singer and songwriter featuring lap steel and electric guitar, who traded picking cotton for picking guitar. His music ranges from high-energy, riffs and stomp blues to soulful, heartrending laments.  Sonny doesn't mince through other people's musical ideas. The style and sound you hear is all his own. Sonny credits as his main influences T-Bone Walker, Pee Wee Crayton, Bessie Smith, Lightnin' Hopkins, and BB King.
The self-proclaimed 'Disciple of the Blues' has been nominated 15 times for the Blues Music Awards winning the Instrumentalist-Other category in 2011.
Sonny Rhodes recorded his first single in 1958 in Austin, "I'll Never Let You Go When Something Is Wrong" and also learned to play the bass guitar. He played bass for blues legends Freddie King and Albert Collins. He also spent some time serving his country in the Navy, enlisting right out of high school. After his stint in the Navy, Sonny returned to California and began recording again in 1966. He has never looked back since. He has recorded over two hundred songs and has played and sung for fans of blues around the world. In the 1980's Sonny began touring and recording frequently across Europe which he continues to do to this day. Rhodes also recorded and performed the theme music for the Firefly television series, "The Ballad of Serenity".
Sonny passed away in early 2022 and will be missed but always remembered in his music. R.I.P. Sonny Rhodes.
Sample music of Sonny Rhodes.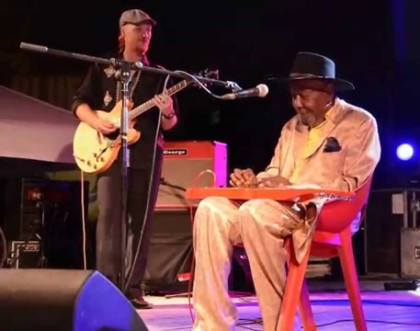 Recent bookings:
Buddy Guy's Legends

, Chicago, IL

Chicago Blues Festival – Chicago, IL

Biscuit's & Blues – San Francisco, CA

San Francisco Blues Festival – San Francisco, CA

The Union Room

, San Francisco, CA

Hayward Russell City Blues Festival – Hayward, CA

Fresno Blues Festival – Fresno, CA

Terra Blues

, New York, NY

Patersdreef Blues Festival – Tielt, Belgium

Vallemaggia Magic Blues – Vallemaggia, Switzerland

The Hume Hotel

, Nelson, BC, Canada

Doc Willoughby's

, Kelowna, BC, Canada

The Blue Gator

, Kelowna, BC, Canada

Ottawa Bluesfest – Ottawa, ONT, Canada

RBC Royal Bank Bluesfest Ottawa – LeBreton Flats, Ottawa, ON, Canada

Calgary Blues Festival – Calgary, AB, Canada

Zoli's

, Calgary, AB, Canada

Bo Diddly's Roadhouse, Edmonton, AB, Canada

Blues On Whyte

, Edmonton, AB, Canada

Granite Curling Club

, Edmonton, AB, Canada

Antone's – Old Location, Austin, TX

The Small Planet

, East Lansing, MI

Sun Banks Blues Festival – Electric City, WA

Pickle's Blues Extravaganza – Lima, OH

Stan Hope House – Stan Hope, NJ

Musicamdo Jazz and Blues Festival – Vapore Italy

so many more….
 Discography (Partial)
Sonny Rhodes Typical Set List (Originals)
| | |
| --- | --- |
| Blues highway | Truth hurts |
|  Since I met you baby | Shake Your hips |
|  Tell Me the truth |  Traveling Bluesman |
| I wanna get your boggie | Anne Mae Café |
| Big bag O'blues | Good Man, Good Woman |
|  She's not happy unless she's sad | Life's rainbow |
|  Win-win Situation | Beside myself |
|  Love and harmony |  Texas Stomp |
| Shame on You | Rainy Day |
|  Blue Diamond | Meet me at the 10th Street Inn |
| Blues is my religion |  Blues Walk |
|  Ain't no blues in town | Blue Monday |
|  Since I met you baby |  Smithville, Texas |
|  I'm back again | In love with you baby |
|  House without love | The Ballard of Serenity |
| | |
More info at: Sonny Rhodes Official Band Web Site