Ambrose & Galfano
Genre: Light Rock / Classic Rock / Pop
Ambrose & Galfano combines the talents of two seasoned musicians into one amazing duo. What started out as a one-off blues show has blossomed into an amazing duo. Jon dazzles audiences with his fine guitar work while Jen mesmerizes the audience with her sultry, powerful vocals, transfixing flute, and sweet mandolin. The duo tosses the lead vocals back and forth and Jon even on occasions will join in on his keyboard. Classic Rock to Original Folk and Blues the duo covers the gambit and always entertains.
Members of Ambrose & Galfano:
Jen Ambrose – Vocals; Rhythm Guitar; Flute; Mandolin
Jon Galfano – Lead Guitar; Keyboards; Vocals
Sample Music of Ambrose & Galfano
Coming soon….
Recent bookings:
StoneRiver Vineyard – Talent, OR
Walkabout Brewing Company – Medford, OR
The Urban Cork – Medford, OR
Reustle-Prayer Rock Vineyards – Roseburg, OR
Seven Feathers Casino – Canyonville, OR
Soloro Vineyards – Grants Pass, OR
Schmidt Family Vineyards – Grant Pass, OR
Belle Fiore Winery – Ashland, OR
Troon Vineyard – Grants Pass, OR
Copper Plank – Medford, OR
Kriselle Cellars – white City, OR
Jaxon Vineyards – Phoenix, OR
Pebblestone Cellars – Talent, OR
Morrton's Pizza – Medford, OR
The Village Medford Center – Medford, OR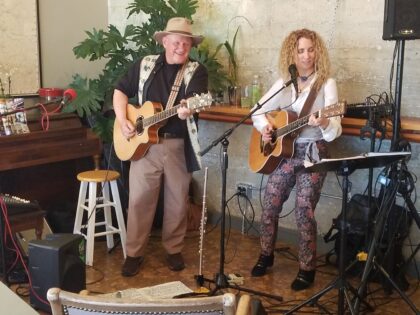 Videos:
More info at: