Ambrose & Galfano
Genre: Light Rock / Classic Rock / Pop
Ambrose & Galfano
Ambrose & Galfano combines the talents of two seasoned musicians into one amazing duo. What started out as a one off blues show has blossomed into an amazing duo.
Members of Ambrose & Galfano:
Jen Ambrose – Vocals; Rhythm Guitar; Flute; Mandolin
Jon Galfano – Lead Guitar; Keyboards; Vocals
Sample Music of Ambrose & Galfano
Coming soon….
Recent bookings:
StoneRiver Winery – Talent, OR
Walkabout Brewing Company – Medford, OR
The Urban Cork – Medford, OR
Soloro Vineyards – Grants Pass, OR
Schmidt Family Vineyards – Grant Pass, OR
Belle Fiore Winery – Ashland, OR
Troon Vineyard – Grants Pass, OR
Copper Plank – Medford, OR
Kriselle Cellars – white City, OR
Morrton's Pizza – Medford, OR
The Village Medford Center – Medford, OR
Jaxon Vineyards – Phoenix, OR
Pebblestone Cellars – Talent, OR
Seven Feathers Casino – Canyonville, OR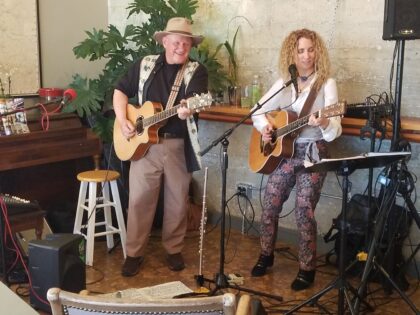 Videos:
More info at: