Jen Ambrose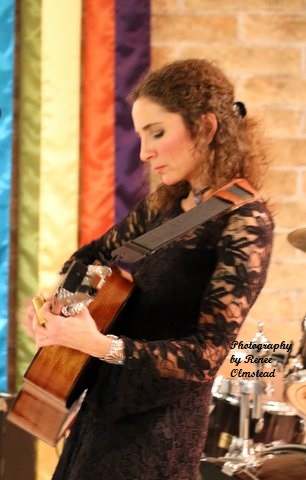 Genre: Folk / Americana / Roots / Blues / Jazz / Pop / Rock
The Music of Jen Ambrose, a singer / songwriter from Medford, OR., has a multifaceted musical style fostered by a high level of seasoned musicianship that is at the essence of a unique, signature sound. It ranges from driving rhythms to intricate finger and flat-picking, percussive djembe, or even a cappella which cultivates her original music. Musical influences include Delta Blues, Swing Jazz, Classic Rock, Middle Eastern and Native American singing and drumming. She performs solo and duo acoustic original music and eclectic covers including over 4 hours of original material.
A frequent performer throughout the Northwest, Jen has opened for touring artists Michael Franti & Spearhead, Pablo Moses, The Norma Frazier Band, Jackie Greene, Colin Hay (formerly of Men at Work), and Donovan. She previously has appeared with The Crooked Road Travelers, The Rock Project, the duo Ambrose & Annieville, and Saucy and currently is a member of Sound Stage Revue and frequently performs with Jon Galfano as Ambrose & Galfano. The Music of Jen Ambrose reaches a wide audience with great appeal.
Sample music of Jen Ambrose.
Sample music of 'Nothing but the Blues' with Jen Ambrose
Recent bookings:
Walkabout Brewing Co. – Medford, OR
Urban Cork – Medford, OR
Talent Artisans & Growers Evening Market – Talent, OR
Laughing Clam – Grants Pass, OR
Belle Fiore Winery – Ashland, OR
Pebblestone Cellars – Phoenix, OR
Paschal Winery – Talent, OR
EdenVale Enoteca Wine Bar & Bistro – Ashland, OR
Taylor's Country Store – Cave Junction, OR
Morrton's Pizza & Pub – Medford, OR
Wild Wines – Ruch, OR
Oregon Honey Festival – Talent, OR
Ban Mai Thai Cuisine & Sushi Bar – Grants Pass, OR
Royal Barge Thai Cuisine – Grants Pass, OR
Roux 26 – Grants Pass, OR
Green Springs Inn – Green Springs, OR
Harry and David Special Event – Medford, OR
Schmidt Winery – Grants Pass, OR
Griess Family Brews – Grants Pass, OR
Cliff Creek Cellars – Sam's Valley, OR
Wolf Creek Inn – Wolf Creek, OR
South Stage Cellars – Jacksonville, OR
Kriselle Cellars  – White City, OR
Inti Latin Soul – Talent, OR
Portland Saturday Market – Portland, OR
SOB (Southern Oregon Brewing Co.) – Medford, OR
'Eats, Beats,& Art' @ The Village Gate at The Village at Medford Center – Medford, OR
Genre:
Jen Ambrose Typical Set List (Covers & Originals)
Original Blues
Covers
 Originals
Pick Your Love Up Off the Ground
 Come Together
 Road of Life
Nickel Blues
 It Hurts so Bad
 Hungry Woman
Deep Delta Blues
D'Yer Mak'Er
Shadow And Nightfall
Believe It
Blackbird
Bringing The Desert To Bloom
Stormy Waters
 Wild Horses
 Remembering
So Down Low
 That's the Way
Midsummer Song
Kettle's Come To Boil
 Babe I'm Gonna Leave You
Tidal Wave
Victimless Crime
Crazy
Sweet Love
Outside In
You Ain't Woman Enough To Take My Man
Eyes Wide Open
The Wave
Ain't Nobody's Buisness if I Do
Go Slowly
Only Love Can Save the Soul
Nobody Knows You When You're Down and Out
 Falling Rain
Water Under the Bridge
Something's Got A Hold On Me
If I Could Paint
Wagon Wheel
 Find Your Love
 Hound Dog
 By and By
Moonglow
I Lost My Heart
Walkin' After Midnight
God Bless This Child
More info at: Official Band Web Site